Sunday, March 28, 2010
For UM Going Away

Know that we will miss you.

Know that it's highly likely that I will hear "Where Unk Mark?" every day for the next three months, despite the same answer every time.

Know that you can do great things.

Know that you can do disgusting things so try to keep your spaghetti-nose trick to yourself. People don't trust people who eat food from their noses.

Know that you're cooler and braver than me--both for doing what you're doing now, and for being the first one to try Buttered Popcorn Jelly Bellies.

Know that we support you no matter what, and if it's some weird sign of solidarity to bedeck ourselves in yellow ribbon, we will.

Know that no matter how fast you run during basic, I will kick your butt running on the Wii (though bowling is strictly yours).


Know we will write you often.

Know that I will always be around to talk/write/facebook or whatever about the past like we did during Christmas when Grandma and Grandpa would take over my room and I'd see you in "dreamland" or about whatever else you want to talk about.

Know that the record high for Arizona heat was 128 degrees, June 29, 1994, but that it's not as bad as some place in Arkansas...so it could be worse than a summer in the desert.

More than anything else,

Know that we love you.
posted by Lori @ 5:58 PM

Friday, March 26, 2010
What to Ask Prospective Teachers?

Last night I went to my first school open house since my brother was little enough to do open houses.

It's been a while.

I forgot how wonderfully classrooms get decorated--the bright colors of projects and activities posted on every wall to the point where the fire marshal has to be called. Frankly, it was overwhelming.

Goose will be in kindergarten next year and I want to make sure the school she's going to will be a good fit for her. Although the troll that works in the office there at the school told me that I'd just have to wait until a week before school started to check out the climate of the classroom, I figured out another way.

Ok, so I may have looked weird being the only one with a notepad in hand and no kids in tow, but it helped me out a lot!

Here are some things to ask prospective teachers:

What is the class size? (21 for the five teachers I spoke with)

What are the hours and how is that structured? (3.5 hours. CA has some serious content standards and at the kindergarten level are working on basic knowledge of presidents, states, math skills, and reading/writing, so the teachers said with such a short day that they have 30 minutes in total--15 for early recess and 15 for free time at the end of class--but the rest is spent at desks or with whiteboards at circle time.)



What skillset are the entering students expected to have?

(It varies. Some have never held a pencil before, and probably should have had an extra year of preschool but with many parents being unable to afford it, they often are put straight into class. So some children are reading and writing, counting, some are bilingual, trilingual, can count infinitely, etc. These students are often paired with those who are weaker so that they can teach one another. If a student is still behind the teacher will call for an intervention and students from higher grades will help teach. It's sort of clever how they've worked around not having aides here in CA, no?)

Do you use worksheets? (I was hoping, chanting "please, god, no" in the back of my brain, but the teachers said that they do one every other day, as it's included in the curriculum required. I hate worksheets! I think they're rote and awful and have been shown they're ineffective in teaching, but the teachers assured me that they do quite a bit of work together as a a class on them. We'll see how that plays out...)

How do you deal with problem students? ("Goose is an angel. She'll never be a problem," I wanted to say, but figured that I wouldn't taunt them with my amazingly gifted daughter. Instead they told me about the levels of good--pretty standard fare, my classes used it too. Five levels each color coded and they start out second from the top. If they do bad they get a warning and go on to the color below, do good, move up to the top.)

Is there homework? (Projects worked on together with family to be presented in class, but no take home worksheets.)

How do you keep in contact with parents? (Notes home. A big strike for me, since I think electronic communication is more responsible earth-wise, but it's neater and I lose everything!)

That's about all I could think of other than volunteer stuff. I had heard that some schools didn't even allow volunteers due to CTA (California Teachers Association) issues. Was there anything I should have added?
posted by Lori @ 10:15 AM

Wednesday, March 24, 2010
Easter Crafts
We've been Easter crafting around here. Bunny paint hands, Easter Lilies from hand cutouts, like last year. Egg trees.

But yesterday we went to a friend's house and here's what the kids made.

alt=""id="BLOGGER_PHOTO_ID_5452221673050382002" />
The kids got to cut out the pieces--Goose solo, Monkey just wanted to fringe stuff so in stepped Mom. Goose painted hers with a cotton ball, then we glued the pieces together and added feathers and a tail respectively.
Quite the keepsakes!
posted by Lori @ 8:21 AM

Monday, March 22, 2010
Spring Reading Thing 2010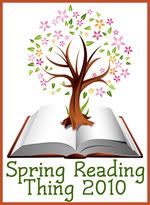 Ok, so last time I participated, I didn't do so hot posting my reviews, but this time, I've got a few kids books on here and I'm sure that Goose will spur me on to write out what we thought. I also reserve the right to add or change anything here. So without further adieu, here's my Spring Reading Thing list:



The Women

- T.C. Boyle. I admit, I've been reading this for the past couple of weeks, but I really want to discuss it with someone!

Wuthering Heights - Emily Bronte. Last year it was Mansfield Park, this year Wuthering Heights. I'll just need to do a few hundred more reading things to fill the romantic period gap in my education.



Pride and Prejusdice and Zombies

- Jane Austen and Seth Graham Smith. More to fill the void? I've been intrigued by this book for a full year. I can't wait to get into it!



The Wordy Shipmates

- Sarah Vowell. This is a book that was so appealing when I saw her on the Daily Show, I knew that I had to give it a shot. Vowell was witty and interesting and I hope her book matches up to her personality.

Nurture Shock - Bronson and Merryman. I've had this for a while and need to read it. I like to tackle a few parenting books a year so here we go.

Various Months of Backlogged magazines (

New Yorker, Rolling Stone, Martha Stewart, People, Parents, Parenting, Family Fun, Country Living

, and

Better Homes and Gardens

are my magazines, but I also like to peruse Ziggy's

Wired

magazine as well as read the kids their

Babybug, Click

and

National Geographic Little Kids

) We get a lot of magazines!

Then there's the kids books



100 Cupboards

- N.D. Wilson. This looked/sounded intriguing off of our host of this event, Katrina's list. It'll be an interesting one for Goose I think.

The Mysterious Benedict Society and the Perilous Journey - Trenton Lee Stewart. It takes Goose and I a while to read these because frankly Monkey doesn't have the attention span yet for reading for an hour or two at night. If we get through this and I can get ahold of the third one we'll read that one too!


Coraline

-Neil Gaiman. Does anyone else love Neil Gaiman?

The Graveyard Book

was so wonderful, scary, but imaginative, sentimental and sweet.

Wolves in the Walls

and

Dangerous Alphabet

have been big hits around here, too so I figured it was time to give

Coraline

a shot.
posted by Lori @ 7:47 AM

Sunday, March 21, 2010
Letting Go
I believe that Goose will do great things.

And while I know it will be a struggle to get there, I can't let go enough to let her feel pain. It's my motherly duty to protect her always right?

Yet the training wheels are off. Ziggy helped her on, let her go and off she went, happy as a clam.



While I pictured bruises, dentist trips, scrapes, cuts, bandaids and the fight over hydrogen peroxide, and steadied the camera in my face so that I wouldn't throw up.

Do you ever stop worrying about them?
posted by Lori @ 1:41 PM

Saturday, March 20, 2010
Just Jen Contest
"No Grapes". That's what I'd want my supercool Just Jen sweatshirt to say. It's strange and doesn't make any sense but neither does my inspiration. It'd be classy though. So classy that Just Jen's designs have been seen on ABC's The Bachelor for their bridal hoodies. You can see them in action here.

I'm pretty excited about A Blog of Goodies'giveaway she has going on right now. Not only is there a chance for a $100 gift card, there's also a Just Jen hoodie of your very own up for grabs. Fun stuff! Good luck to you and the Red Socks!
posted by Lori @ 1:20 AM

Good Luck!
Karen at 3 Garnets and 2 Sapphires has a great giveaway going on for $50 to Novica.com. I've been obsessing over the various rug styles from India and would love to put this toward one for our house. Shopping is so fun!
posted by Lori @ 12:05 AM

About Me
Name: Lori
Home: Sacramento-ish, California, United States
About Me: I want to make things better.
See my complete profile
Previous Post
Archives
Blogrolling
Powered by