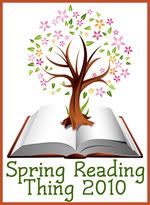 Ok, so last time I participated, I didn't do so hot posting my reviews, but this time, I've got a few kids books on here and I'm sure that Goose will spur me on to write out what we thought. I also reserve the right to add or change anything here. So without further adieu, here's my Spring Reading Thing list:



The Women

- T.C. Boyle. I admit, I've been reading this for the past couple of weeks, but I really want to discuss it with someone!

Wuthering Heights - Emily Bronte. Last year it was Mansfield Park, this year Wuthering Heights. I'll just need to do a few hundred more reading things to fill the romantic period gap in my education.



Pride and Prejusdice and Zombies

- Jane Austen and Seth Graham Smith. More to fill the void? I've been intrigued by this book for a full year. I can't wait to get into it!



The Wordy Shipmates

- Sarah Vowell. This is a book that was so appealing when I saw her on the Daily Show, I knew that I had to give it a shot. Vowell was witty and interesting and I hope her book matches up to her personality.

Nurture Shock - Bronson and Merryman. I've had this for a while and need to read it. I like to tackle a few parenting books a year so here we go.

Various Months of Backlogged magazines (

New Yorker, Rolling Stone, Martha Stewart, People, Parents, Parenting, Family Fun, Country Living

, and

Better Homes and Gardens

are my magazines, but I also like to peruse Ziggy's

Wired

magazine as well as read the kids their

Babybug, Click

and

National Geographic Little Kids

) We get a lot of magazines!

Then there's the kids books



100 Cupboards

- N.D. Wilson. This looked/sounded intriguing off of our host of this event, Katrina's list. It'll be an interesting one for Goose I think.

The Mysterious Benedict Society and the Perilous Journey - Trenton Lee Stewart. It takes Goose and I a while to read these because frankly Monkey doesn't have the attention span yet for reading for an hour or two at night. If we get through this and I can get ahold of the third one we'll read that one too!


Coraline

-Neil Gaiman. Does anyone else love Neil Gaiman?

The Graveyard Book

was so wonderful, scary, but imaginative, sentimental and sweet.

Wolves in the Walls

and

Dangerous Alphabet

have been big hits around here, too so I figured it was time to give

Coraline

a shot.