Wednesday, June 10, 2009
Wordy Wednesday: Any Fancy Nancys?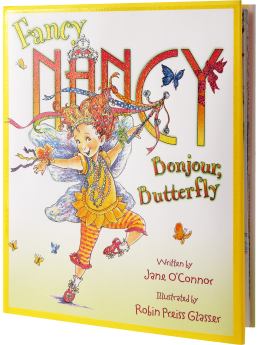 I love Fancy Nancy. I love that she's a girly girl, and sure she rocks glitter and does ballet, but she frills it up while out on a soccer field and she's not afraid to scoop some poop, too. The colors are fantastic, and while Ms. Glasser takes her illustration abilities over to the Ruby book[s] as well, I think they're pretty unique (also the reason that the Fancy Nancy readers just don't have the same vibe, she's not the illustrator).

Well Goose had her first no-can-do response to her birthday party invites because her friend is going to her grandparents wedding anniversary in the Phillipines so we've been reading

Bonjour, Butterfly

lately.

She loves it. And she loves explaining to people what RSVP stands for--something I didn't know until we got the book.

To Fancy Nancy we say "oui, oui, oui!"
posted by Lori @ 7:45 PM

About Me
Name: Lori
Home: Sacramento-ish, California, United States
About Me: I want to make things better.
See my complete profile
Previous Post
Archives
Blogrolling
Powered by