Wednesday, January 13, 2010
Silly Haiku Wednesday: The Road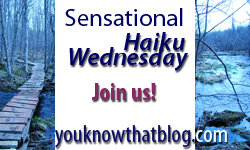 This week's theme is "the road" and I wrote two of them one not silly and one very much so.

Road of Life (inspired by Karissa, and a friend of mine who took her life five years ago)

Then she traveled north
Like Cortes or the dead past
To a new frontier.

Silly one now?
Traveling with kids

Vast is the I-5 stretch
How much Disney do we own?
And will the kids watch?
posted by Lori @ 11:19 AM

About Me
Name: Lori
Home: Sacramento-ish, California, United States
About Me: I want to make things better.
See my complete profile
Previous Post
Archives
Blogrolling
Powered by